M & W Machine Shop and Manufacturing Services
M & W Mfg. Inc. was established in 1979. We are located in a 23,925 square foot facility in Iola Kansas. M & W is a machine shop with the capability for high production runs and small production or prototype work. We utilize machines ranging from the most modern multi axis CNC machines to high production screw machines and manual equipment.
With decades of knowledge and experience in design and machining our professional staff can help your company achieve the best quality product possible with today's technology at an affordable price.
We have a quality control department on staff and all customer parts are subject to continuous inspection while being processed. ISO compliant. Documentation of inspection reports are available to customers. We also use 3-D CAD-CAM to aid in design and machining.
We can deliver products within a reasonable distance from our facility or arrange for shipping per customers requirements.
Machines used by M & W include numerous CNC lathes, CNC machining centers, hand mills, hand lathes, auto feed saws, drill presses, etc. For a list of our current machines and capacity see our equipment page.
Since inception M & W has worked with numerous major corporations and small businesses across the country. We continue to change and grow as the industry moves forward.
Normal office business hours are from 9-5 M-F central standard time. If you have questions or would like a quote for services please give us a call.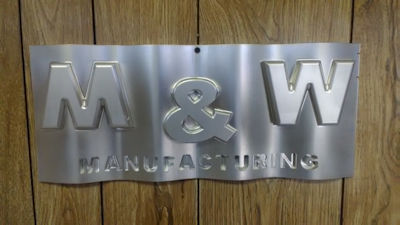 3D Mill Examples